Secure Transmissions, Secure Storage
Cloudbrief keeps your important documents protected when filed, uploaded to or downloaded from the server.
Industry leading 128 bit SSL encryption ensures secure transmission of your documents between your location and Cloudbrief.
Your team members can "send" documents up to 200MB in size with the safety of encryption. These features empower your team to avoid the limits on size of attachments and serious and inherent lack of security and safety of emails.
Cloudbrief is an organised structured record of case or matter details and information, with storage space for thousands of electronic documents and flexibility for expansion.
Cloudbrief uses a secure server in a secure data centre in Australia, protecting identity, privacy and confidentiality. You can rest with the knowledge that your documents are not stored at an unknown location overseas on a computer of a foreign country or internet giant.
Backups are to a secure server in Australia.
You can add a layer of protection by filing and retrieving password protected documents.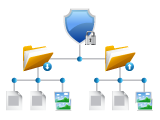 Efficient Workflow
Through an organised file structure, based on 40 years' legal experience, Cloudbrief facilitates efficient and organised running of cases.
Cloudbrief aids and encourages teamwork but can be used by a sole lawyer or client. Users have convenient online user instructions.
You can use Cloudbrief's predetermined file structures and folders, change those structures, or create your own.
The documents you need are where you expect them. Cloudbrief allows you to be highly organised.
Track Changes
Team leaders can track which files were accessed when and by whom.
Additions or changes by one team member to the common file will benefit all. You can see when advice was last given to the client, when counsel was last instructed, and whether any advice is outstanding.
Authority and Access Control
Manage and track who has access to files and documents.
You control who can view, create, amend, archive and add or delete documents.
Create user groups with group permissions.
Users and groups can only see what you permit them to see.
Access and supervise the work of lawyers in your team.
Keep the client informed about what is happening with the case or matter.
Enable and disable client access as you choose.
Create electronic briefs to experts.
Flexible Online Access
Cloudbrief removes or reduces the need to take files outside the office.
You can access your files remotely by using a desktop computer, portable laptop or ultralight, tablet (eg Ipad), or mobile phone.
Rather than cart bulky case files around, lawyers can access and file documents securely from remote locations; at home, in another State, or overseas.
If Internet connection is available you have a capacity to access your brief in Court by computer or tablet.
Cloudbrief operates within the web browser on your computer, eliminating the need for dedicated access software.
You can retrieve and file your documents securely anywhere, anytime. You need internet access, and the software applications that you use in your everyday work.
Simplicity
Cloudbrief is simple and easy to use.
You can file case information in an easy to follow structure, allowing you to concentrate on legal work rather than how to organise the case file and documents.
The documents you need are readily available, wherever you are.
Simplify supervision of team members by online review rather than by series of face to face at the office interviews after cumbersome searching to find relevant content within many paper files.
A client can make a simple online check on progress pending the next update letter from the lawyer.