Organised Online Legal File
Cloudbrief is an application for the traditional office and the virtual office. It makes your job easier whether you are at your traditional physical office or working remotely.
It is a secure, easy to use and valuable online support tool for lawyers. The structured system was created and refined from the experience of more than 40 years' spent preparing for trials and appeals and presenting in the courtroom. Wherever you are working remotely you can access and add files and documents in native format.
Cloudbrief is designed for litigation support but it can also be used by commercial lawyers for cost effective secure online access to matter files.
It can be used by lawyers on different sides to share common documents in a litigation case or in a commercial transaction.
Benefits include:
Create your virtual office
You and your legal team can work, and access and add documents, remotely
Your client, expert or witness can access documents that you permit them to see
You can access your files remotely by using a desktop computer, portable laptop or ultralight, tablet (eg Ipad), or mobile phone.
Access your brief in Court by computer or tablet.
Secure access to your files, wherever you are.
You no longer need to always cart bulky files everywhere.
A common file for your team and client, accessible wherever they are.
Your team benefits from the work of each member.
Identifying additions and changes to matters and files.
Controlling who accesses files and documents.
Witnesses and experts can access organised material online.
Shared space can be created accessible by you, another legal team, mediator, or arbitrator.
Intuitive, organised brief structures based on 30 years' litigation experience.
Inbuilt flexibility. Allows you to control the way information is organised and stored, and can be used by non-litigation lawyers.
Save time and boost productivity.
Reduce paper printing and storage costs.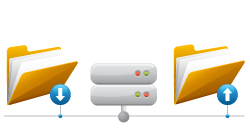 Helps You Organise and Prepare
Based on more than 40 years' litigation experience (preparing for and in the courtroom), the in-built file structure intuitively leads you through document collation and storage as you prepare your cases.
Clear and simple areas for document storage help you to stay organised, whether working alone or managing a team.
File documents from your office, at home, or wherever you or your team member, client, permitted expert, or permitted witness has internet access.
Team Collaboration
By building a common brief file in a shared space you reduce the duplication of effort by members of your team.
Supports teamwork.
Access and supervise the work of lawyers in your team.
Keep your client informed about what is happening with the case.
Save Time
Securely retrieve your case files away from the office, and you won't have to always take files home, commute unnecessarily to the office, or wait for the courier to arrive.
You might even choose no longer to operate from an office.
Evening or weekend return trips to the office should be a thing of the past, meaning less time lost to travelling and more time spent with family, at leisure or on your cases.
Reduce Printing and Document Storage Costs
Cloudbrief is a cost effective legal support solution, opening up potential for significant savings in printing and storage space requirements.
Reduce or avoid expenses of a physical office
Cloudbrief is a core tool for you if you want to create a virtual office.